Woman Arrested After Refusing to Leave a Public Beach in Violation of a Miami-Dade County COVID-19 Order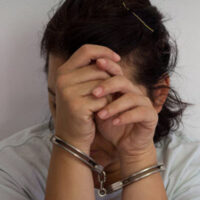 According to a report from WPLG Local 10, Kimberly Falkenstine, a 33-year-old Miami woman, was arrested and charged with multiple criminal offenses for refusing to leave the beach at Lummus Park. Police allege that Ms. Falkenstine went on the beach in violation of a Miami Beach public safety order that closed the area in an effort to control the spread of the COVID-19 outbreak.
Allegations: Left the Protest Area, Refused to Leave to the Beach  
WPLG Local 10 reports that Ms. Falkenstine and her husband were involved in an afternoon protest near Lummus Park. The protest was in opposition to the state and local COVID-19-related restrictions. Based on information included within the arrest report, Ms. Falkenstine left the pre-designated protest area and went onto the nearby beach—which has been closed by a Miami Beach City ordinance.
Officers state that they told her several times that she needed to leave the beach immediately as it was closed to the public because of the COVID-19 pandemic. Ms. Falkenstine responded that she would not do so, and that she and other members of the public had a right to access the beach. After she failed to comply with at least three warnings, Miami Beach Police took her into custody. She was then charged with resisting an officer without violence and violation of an emergency public order. 
Florida Police Continue to Enforce COVID-19 Orders—But they are Using Discretion  
The arrest should serve as a reminder that law enforcement can arrest people who violate coronavirus-related public health orders. These orders, regardless of anyone's opinion on their fairness or wisdom, do carry the full force of law. The Miami Beach arrest is consistent with what we have seen in Miami-Dade County and throughout the state of Florida so far: Police are enforcing local orders, but using considerable discretion.
Previously, we discussed how Miami police have made more than a dozen arrests for curfew violations. Both that story and this story share an important similarity: Law enforcement has been giving people warnings before making arrests. While police departments have emphasized the fact that they are not obligated to do so, most are giving people multiple warnings.
State policymakers have been clear that they want to give the public an opportunity to comply with all emergency public safety orders. That being said, violation of an order, especially after a warning has been issued, could result in an arrest and criminal charges. Further, protestors and other people violating public health orders should know that resisting an arrest—even when done in a wholly not violent manner—could lead to an additional criminal charge.
Consult With Our Miami, FL Criminal Defense Attorneys Today
At Ratzan & Faccidomo, LLC, our Miami criminal lawyers work hard to provide top-quality, reliable representation to clients. Call us now for a free, confidential consultation. We represent clients all over Miami-Dade County, including in Hialeah, Homestead, North Miami Beach, Aventura, Palmetto Bay, Pinecrest, and Opa-Locka.
Resource:
local10.com/news/local/2020/05/11/woman-holding-we-are-free-sign-arrested-on-miami-beach/
https://www.rflawgroup.com/supreme-court-sixth-amendment-requires-a-unanimous-jury-verdict-for-serious-crimes/