Four Flight Attendants Arrested on Money Laundering Charges in Miami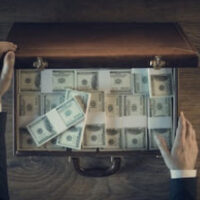 According to reporting from NBC News, four flight attendants for American Airlines were detained and arrested on criminal charges at the Miami International Airport. The international based crew had just arrived on an overseas flight. Prosecutors are accusing them of money laundering and the unlawful smuggling of more than $20,000 into the United States. All four individuals were booked into jail in South Florida.
A Flight Attendant Changed His Story During a Routine Check 
The criminal complaint indicates that one of the flight attendants, a man named Carlos Alberto Munoz-Moyano, was asked how much cash he had on him during a "routine" review after a flight. During the questioning, Mr. Munoz-Moyana initially answered that he had $100 in cash on his person. However, he then quickly changed his answer and stated that he had $9,000. The reporting is not exactly clear as to why the answer changed.
After learning these new details, security officers then more comprehensively checked all of the flight attendants on the American Airlines trip. That is when they discovered another $13,000 in cash. It is not clear as to what other information authorities obtained to bring the charges. Though, according to the prosecutors on the case, the flight attendants were attempting to bring the money to another party as part of an allegedly unlawful operation. The report also notes that the flight attendants arrived from Chile, which has seen civil unrest and falling currency in recent days.
Money Laundering Charges: Explained 
In Florida, money laundering is defined as an action, transaction, or series of transactions that are used to conceal or disguise the financial proceeds of unlawful activity. Money laundering is both a highly complex and a very serious criminal offense. It is a felony in Florida—with the specific severity of the charges depending, in large part, on the amount of money that was allegedly laundered.
Florida prosecutors will charge money laundering as a third degree felony when between $300 and $20,000 was laundered within a single 12-month period, a second degree felony when between $20,001 and $100,000 was laundered, and a first degree felony when more than $100,000 was laundered. To be clear, Florida's money laundering law is based on time—not on a single event. As such, a defendant that commits multiple, substantially similar money laundering offenses within one year can have the value of all of those individual instances combined together in order to support a higher degree felony charge.
Discuss Your Case With a Miami Criminal Defense Lawyer Today
At Ratzan & Faccidomo, LLC, our Miami criminal attorneys dedicate our legal practice to aggressively advocating for the rights of our clients. If you or your loved one is facing charges for money laundering or any other related offense, we are here to help. For a free, fully private consultation, please call us now. From our office in Miami, our criminal defense attorneys serve clients throughout Southeastern Florida.
Resource:
nbcnews.com/news/us-news/american-airlines-flight-attendants-arrested-miami-airport-money-laundering-charges-n1070701
https://www.rflawgroup.com/alleged-peeping-tom-arrested-in-coral-gables-florida-charged-with-voyeurism-and-criminal-trespassing/