Florida Supreme Court Hears Another Stand Your Ground Case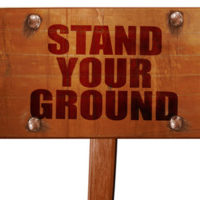 As reported by CBS Miami, the Florida Supreme Court recently heard oral arguments in another 'Stand Your Ground' case. The core issue at stake in this case is whether or not key changes that were made to the controversial law in 2017 should be applied to earlier cases that are still making their way through the state's criminal justice system. Notably, two different appeals courts are now split on this issue. In this article, our experienced Miami criminal defense attorneys provide an overview of this case and explain the decision that the court has to make.
Background: A 2015 Miami-Dade County Nightclub Shooting 
In this case, there are many important facts that are wholly undisputed. In late November of 2015, there was an altercation at a Miami area nightclub. The altercation ended when a woman named Tashara Love shot and killed a man named Thomas Lane. According to court records, Mr. Lane was about to strike the daughter of Ms. Love. Indeed, Florida prosecutors and Ms. Love both agree that is what occurred. The dispute is over whether or not she had the right to take such an action. Following the shooting, Ms. Love was charged with second degree murder. Eventually, she invoked Florida's 2017 Stand Your Ground law — arguing that she was immune from prosecution because she was defending her daughter's safety.
The Florida Supreme Court Must Decide if the Law Applies Retroactively.  
Prosecutors attacked Ms. Love's attempt to invoke a Stand Your Ground defense by arguing, in part, that she was ineligible to raise such a defense because the change in the statute that she is relying on was passed in 2017 — nearly two years after her case. Prosecutors contend that this law cannot apply retroactively.
Of course, Florida's Stand Your Ground law has existed for several years. However, in 2017, highly consequential changes were made to the law — shifting the burden of proof in a Stand Your Ground immunity hearing from the defense to the prosecution. That shift makes a huge difference in a Stand Your Ground immunity hearing.
In hearing her case, Florida's Third District Court of Appeal agreed with the prosecution— finding that Ms. Love did not have the right to raise a defense using the procedures of 2017 law. However, in 2017, Florida's Second District Court of Appeal took the opposite position in handling a similar case that arose out of the Tampa metropolitan area.
It is now the responsibility of the state's highest court to resolve this circuit split. A decision on this case is expected sometime before the end of 2019.
Contact Our Miami Criminal Defense Lawyers Today
At Ratzan & Faccidomo, LLC, our Miami, FL defense lawyers are committed to fighting for the rights of the accused. We will work tirelessly to get you the best possible outcome in your case. For a free, no strings attached case evaluation, please contact us today. From our law office in Miami, we handle cases all around South Florida, including in Miami Beach, Hialeah, and Fontainebleau.
Resource:
miami.cbslocal.com/2019/03/06/florida-justices-delve-into-stand-your-ground-change/
https://www.rflawgroup.com/three-things-you-should-know-about-the-juvenile-justice-system-in-florida/