Worth Avenue Art Dealer Faces Criminal Charges For Fraudulently Selling Replicas Of Paintings By Famous Artists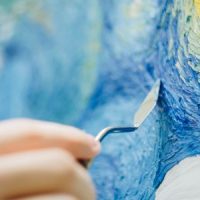 Prints of famous Andy Warhol paintings, such as the Campbell's soup cans or the multi-colored portrait of Marilyn Monroe, can be found on the walls of every living room or diner in South Florida.  You might not know the name of Roy Lichtenstein, but you would recognize his paintings, which look like enormous comic strip panels, anywhere.  Banksy's works are identifiable, even if hearing the stories about them is more interesting than looking at the pictures themselves.  When Jean-Michel Basquiat died in 1988 at age 27, only other visual artists would have recognized his name, but today, his outspoken fans include music stars like Jay-Z and Madonna, as well as anyone who has seen the show Empire.  Basquiat's paintings where a small color palette and just a few brush strokes can convey the immense physical and spiritual strength of their subjects are recognizable anywhere, and a 1982 painting of his that sold in 2017 for more than $110 million is one of the most expensive paintings in history.  You don't have to be rich to enjoy the most notable works of art of the 20th century; if you want to see these images every time you enter your living room or office, you can buy a framed print for several hundred dollars or a poster for even less.  Buying original paintings from art galleries, however, requires an enormous investment of money.  Here, our Miami white collar crime lawyer explains how a Worth Avenue art gallery owner allegedly defrauded buyers with a scheme that sounds like it would be too simple to work.
The Charges: Mail Fraud, Wire Fraud, Money Laundering, and Laundering of Monetary Instruments
Palm Beach is a temporary or permanent destination for some of the wealthiest people in the world, and Worth Avenue, with its art galleries, is one of its most expensive areas.  When people visit art galleries, their goal is to be seen as much as it is to see the artwork.  When people buy paintings from art galleries, it is not simply because they find the painting so beautiful that they want to look at it every day; you can do that for a fraction of the price by buying a replica of the painting.  People buy paintings from art galleries as an investment, whether or not they have specific plans to resell them.  Buyers also receive the painting's provenance, a legal document that details the history of the work's ownership, much like the title to other valuable items of property.
Daniel Elie Bouaziz is a French art dealer who owns galleries in London, Paris, Tel Aviv, and Palm Beach.  His Palm Beach art galleries are Galerie Danieli and Danieli Fine Art, both located on Worth Avenue.  Some of the paintings Bouaziz sold were not what he claimed they were, however.  They were replicas so inexpensive that the general public could afford them.  After buying the replicas, Bouaziz would forge provenance papers for them and then sell them, claiming that they were originals.  He allegedly used the proceeds of these fraudulent sales to buy luxury items such as a Lamborghini, a Rolex watch, and at least one piece of Cartier jewelry.
News sources do not indicate how authorities first began to suspect that Bouaziz was selling fake paintings, but undercover agents bought two paintings from him during the investigation.  The agents paid $12 million for a painting by Basquiat and $25,000 for one by Roy Lichtenstein.  An investigation revealed that both paintings were replicas; Bouaziz had bought them from auction sites for less than $500 each.
Defendant Could Face Up to 20 Years in Prison
The FBI raided Danieli Fine Art in December 2021, discovering other evidence of Bouaziz's fraudulent activities.  Bouaziz, 68, was arrested in May 2022 and indicted in July.  He faces criminal charges for mail fraud, wire fraud, money laundering, and laundering of monetary instruments.  If convicted of all charges, Bouaziz could face a prison sentence of up to 20 years.  Like all defendants in criminal cases, he has the right to the presumption of innocence and to have an attorney represent him.
Contact Our Financial Crimes Defense Attorneys
You can face a long prison sentence for financial crimes, even if the victims were wealthy enough that they could afford to lose the money.  A South Florida criminal defense lawyer can help you if you are being charged with selling inexpensive items at high prices under false premises, or some other form of fraud or financial crime.  Contact Ratzan & Faccidomo in Miami, Florida for a free, confidential consultation about your case.
Sources:
meaww.com/daniel-bouaziz-florida-gallery-owner-sold-fake-banksy-basquiat-paintings
news.artnet.com/art-world/florida-man-daniel-elie-bouaziz-art-fraud-indictment-2147020
justice.gov/usao-sdfl/pr/palm-beach-art-dealer-charged-carrying-out-art-fraud-scheme