Will The Jury Acquit You Just Because Your Accuser Has A Motive For Lying?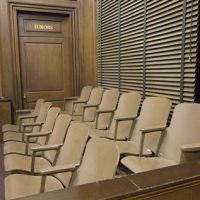 The jury cannot return a verdict of guilty unless the prosecution's evidence and arguments leave no room for reasonable doubt, but to establish reasonable doubt, you must do more than just say, "He's lying!"  You must show why the exhibits that the prosecutors show do not mean what the prosecutors say they mean or that the testimony of prosecution witnesses is not credible.  If your case hinges on the testimony of expert witnesses offering testimony about the chemical composition of drugs, for example, then your best defense is to summon your own expert witnesses and fight expertise with expertise.  If the jury's decision hinges on whether they believe a person who claims that he or she saw you commit the crime, then your best defense might be to demonstrate that the witness has a compelling reason to lie.  In domestic violence cases, the testimony of the alleged victim is often the most important factor in determining the jury's decision, as in many instances, there were no other eyewitnesses to the incident.  Of course, there are plenty of reasons that a person might falsely accuse his or her spouse or partner of domestic violence.  Here, our Miami domestic violence defense lawyer explains how a jury decided that the testimony of the wife of a wealthy man accused of domestic battery was not credible.
The Snitches and Other Stories
More than 90 percent of criminal cases that make it to the stage where the defendant enters a plea result in a guilty plea, and snitches account for only a small percentage of those.  Defendants who plead guilty tend to get lighter sentences simply because prosecutors and, in some cases, public defenders can resolve the case and move onto other cases without going through a trial.  In other words, it is less work, and therefore less taxpayer money, for the state if you plead guilty, and plea deals are an incentive for defendants to go this route.
In cases related to financial crimes conspiracy or drug trafficking, the information that defendants can provide about their associates is invaluable to prosecutors.  Therefore, the sweetest plea deals are reserved for defendants who inform on other people who are facing charges or even provide statements that lead to the arrest of people whose activities were previously unknown to the police.  Depending on how juicy the snitch's story is, the state might even offer complete immunity from prosecution.  In other words, there are clear incentives for snitching.  Therefore, if the state uses the testimony of an alleged accomplice against you, it automatically means that the snitch had a motive for snitching, namely to avoid the worst punishments he or she could have faced.  You might have even heard stories of career snitches who are serving life sentences and have nothing to lose, so they fabricated stories about all kinds of crimes which their fellow inmates allegedly confessed to them.
The Role of Victims' Testimony in Domestic Violence Cases
The alleged victim's testimony is often the most important evidence in a domestic battery case.  If the victim suffered visible injuries, then descriptions of these injuries in the police report will count as evidence, as will reports from the doctors who treated the victim if he or she sought treatment related to the injuries.  Often, though, there are no witnesses to a physical fight between spouses and no definitive proof that any signs of injury on the victim's body are a result of the confrontation.  It is much more common for domestic violence charges to get dropped because an alleged victim refused to testify against the defendant than it is for a defendant to be wrongfully convicted because of false accusations by an alleged victim.
The Prenup That Acquitted a Multimillionaire Accused of Domestic Battery
Abe Haruvi, who owns tens of millions of dollars' worth of real estate in Florida and New York, signed a prenuptial agreement with his wife Giovana Stephenson when the couple married in 2008.  The prenup said that if the marriage ended in divorce without a history of domestic violence, Stephenson would waive her right to alimony and to the couple's waterfront mansion in Palm Beach County, but if Haruvi were convicted of a domestic violence crime severe enough to be charged as a felony or first-degree misdemeanor, Stephenson would get the waterfront mansion and several million dollars.  When Stephenson accused Haruvi of hitting her in 2021, Haruvi pleaded not guilty to first-degree misdemeanor domestic battery.  At his trial, Haruvi said that Stephenson had "60 million reasons to lie," referring to the value of his real estate properties.  Because of this, and because of inconsistencies in Stephenson's testimony, the jury acquitted Haruvi.
Contact Our Domestic Violence Crimes Defense Attorneys
A South Florida criminal defense lawyer can help you if you are facing criminal charges of domestic battery after a confrontation with your spouse, partner, or ex.  Contact Ratzan & Faccidomo in Miami, Florida for a free, confidential consultation about your case.
Sources:
dailymail.co.uk/news/article-11011345/Real-estate-mogul-67-spared-losing-50M-Palm-Beach-home-jury-clears-battering-wife.html
efactssc-public.flcourts.org/CaseDocuments/2022/919/2022-919_Petition_80563_PETITION2DHABEAS20CORPUS.pdf