What Should I Do if I Have Received a Subpoena in a Criminal Case?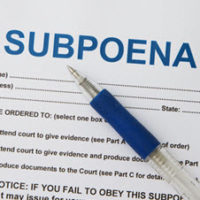 A subpoena is a document issued by a court of law that orders a person to provide relevant information. You may receive a subpoena that asks you for certain documents or evidence related to a criminal case, or you may receive a subpoena that asks you to give on-the-record testimony. As you may have guessed, the word 'subpoena' comes from Latin, meaning 'under penalty'.
Subpoenas in criminal cases must always be taken seriously. If you refuse to comply with the terms of a subpoena, you could be found in contempt of court. In other words, you could be subject to serious penalties, potentially even including fines, jail time, or both. Here, our experienced Miami subpoena lawyers explain what you should do if you have received a subpoena in relation to a criminal case.
Did You Get a Subpoena in Florida? Three Steps to Protect Your Rights 
Step #1: Do Not Ignore the Subpoena  
You should never ignore a subpoena. If you have been subpoenaed in relation to a criminal case, you need to take action to protect your rights. Ignoring a subpoena is a very serious risk. If you do not respond, a bench warrant could be issued for your arrest.
To be clear, no one can force you to testify in a criminal case. However, you are subject to penalties if you ignore a subpoena. If you were simply a witness to a crime, and you do not want to participate, you should discuss this matter with a Miami defense lawyer and the prosecution. 
Step #2: Figure Out What the Court Wants From You   
You should carefully analyze the subpoena to determine what exactly the court wants from you. In some cases, the request will be rather simple. For example, the court may believe that you were an eyewitness to a traffic accident. The underlying case may have virtually nothing to do with you, and you may not have any useful information to provide. That is not a problem. You should be prepared to respond so that the prosecutor's office is aware of this fact. Of course, in other cases, you may receive a subpoena in relation to a criminal case where you are worried about potential criminal liability.  
Step #3: Be Ready to Get Help From a Lawyer
 If you received a subpoena in South Florida, there are two circumstances in which you should seek help from a Miami defense lawyer:
You are confused by the subpoena and you not sure what you should do to protect your interests; or
You are worried that you might have criminal liability.
If you are concerned about your liability, whether you are tangentially related to a drug trafficking case, financial fraud case, or any other type of criminal case, you should consult with a qualified Miami criminal defense lawyer before responding to the subpoena. 
Contact Our Miami, FL Criminal Defense Attorneys Today
At Ratzan & Faccidomo, LLC, our Florida criminal defense lawyers are proud to be strong advocates for our clients. If you or your family member was served with a subpoena, we are ready to protect your rights and interests. To schedule a free consultation, please contact our Miami law office today at 305-600-3519.