West Palm Beach Man Who Once Convinced Patients He Was Florida's Youngest Doctor Faces New Fraud Charges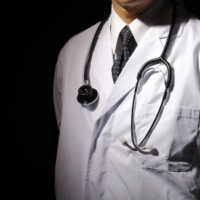 When journalists from other states cover criminal cases being tried in Florida courts, they often play up the "only in Florida" angle.  They make it sound like "Florida Man" has superhuman powers of deception, extraordinary audacity, and uncanny bad luck.  During the last few months of 2020, news headlines told of Floridians who spent their Paycheck Protection Program (PPP) loans in daring and ostentatious ways before getting caught, but one of the last fraud arrests of 2020 was for an act of fraud that allegedly took place before the first COVID-19 outbreak occurred in Florida.  Before the current case, and indeed before the pandemic, this defendant had a documented history of fraudulent activity related to healthcare.  Here, our Miami white collar crimes defense lawyer explains how a young man with considerable knowledge of medicine got a second chance, with the help of a plea deal, and eventually got into legal trouble again.
The Strange Case of Dr. Love, South Florida's Youngest Phony Physician
In early 2015, Malachi Love-Robinson arrived at St. Mary's Medical Center to shadow Dr. Sebastian Kent.  Dr. Kent thought that Love-Robinson looked young, but he had a lab coat and a stethoscope, plus an apparently hospital-issued name badge, which turned out to be fake.  Love-Robinson's apparent youth was the only thing about him that raised any suspicions for Dr. Kent; he otherwise seemed knowledgeable about medicine and behaved like any other medical student shadowing a doctor.  Dr. Kent assumed that Love-Robinson must have been in his twenties, having gone straight to medical school after graduating from college.
In fact, Love-Robinson was only 17 years old at the time, and he was not a physician or a medical student, but over the next two years he succeeded in convincing many people that he was a doctor.  By the end of 2015, he had opened a naturopathy clinic in Boynton Beach.  The Florida Department of Health soon shut down the Boynton Beach clinic when they discovered that Love-Robinson did not have a license to practice medicine.  Love-Robinson then opened another clinic in West Palm Beach.  He even offered to make house calls for patients who did not have transportation to the clinic.
One such patient was Anita Morrison, who was in her 80s and contacted Love-Robinson's clinic in search of natural remedies to help her manage chronic abdominal pain.  Love-Robinson made several visits to Morrison at her home.  During the course of these house calls, he stole more than $35,000.  Love-Robinson's fraudulent medical practice was exposed when an undercover officer visited the West Palm Beach clinic in early 2016, pretending to be a patient.  After Love-Robinson performed a physical exam on the officer, police arrested him.
The Plea Deal: Love-Robinson Serves Two Years After Facing a Sentence of Up to 90
After his arrest in early 2016, Love-Robinson posted bond.  He then traveled to Virginia, where he was arrested in September of that year for using his godmother's personal information in an attempt to buy a $35,000 Jaguar.  His godmother had not given him permission to use her information.  He pleaded guilty and served a yearlong sentence in a Virginia jail before being extradited for his trial in Palm Beach County.
If Love-Robinson had been convicted at trial of all the charges against him in Florida, he could have received a sentence of up to 90 years.  Instead, he pleaded guilty to practicing naturopathy without a license in exchange for the other charges being dropped.  In 2018, he was sentenced to three years in prison.  He was released in 2019, having served less than two years of the sentence.
The New Charges: Fraud and Grand Theft
In early 2020, Love-Robinson was a contract employee for United States Freight in Delray Beach.  He allegedly embezzled more than $10,000 from his employer by transferring money from the company's accounts into his personal bank accounts.  His employer showed the police screenshots of text messages Love-Robinson had exchanged with him, promising to repay the money, but the employer claims that Love-Robinson has not repaid the money.  Love-Robinson, now 23, entered the Palm Beach County jail on December 31, facing charges of grand theft and fraud.
Reach Out to Us Today for Help
Even if you have a prior criminal conviction on your record for an offense similar to the one with which you are currently facing charges, you have the right to the presumption of innocence and to representation by a Miami white collar crime lawyer.  Contact Ratzan & Faccidomo for help with your case.
Resources:
sun-sentinel.com/local/palm-beach/fl-ne-malachi-love-arrest-20210101-n3us5uqxivbpxann6avsmwfv3e-story.html
theroot.com/the-florida-man-formerly-known-as-dr-love-arrested-aga-1845980583