Weapons Charges in Florida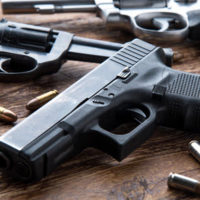 In the United States, you have the right to bear arms. But this right has its limits. There are certain weapons you need proper identification and permits to possess and use and there are others that private citizens may not possess under any circumstances. It is also possible to have your right to own a dangerous weapon revoked, such as if there is a restraining order in effect against you.
If you are charged with a weapons offense, you can face steep penalties like a long prison sentence, high fines, and probation. Contact an experienced criminal defense lawyer as soon as you can after your arrest to start working on your case's legal defense strategy. 
A Weapon Could be an Aggravating Factor 
An aggravating factor is a fact about a specific crime that can alter the charge the defendant faces or the penalties to which he or she is sentenced. Perhaps the most prominent example of this is an aggravated assault charge. In Florida, a simple assault is defined as an intentional, realistic threat of bodily harm to a victim. When this is committed with the use of a deadly weapon, it is charged as an aggravated assault. Simple assault is a second degree misdemeanor, punishable by up to 60 days in jail and a fine of up to $500. Aggravated assault is a third degree felony, punishable by up to five years in prison and a fine of up to $5,000.
Types of Weapons Charge in Florida
Weapons charges and their penalties vary wildly. Some are misdemeanor charges and others are felonies. Although many weapons charges specifically mention firearms, possession and use of other weapons like tasers and brass knuckles can also be grounds for weapons charges.
It is illegal for certain individuals in Florida to possess firearms. These individuals include minors under the age of 16, convicted felons whose civil rights have not yet been restored, and individuals who are found by the court to be drug addicts, mentally incompetent, or vagrants.
Possessing a concealed weapon without the proper permit to do so is a first degree misdemeanor. If the concealed weapon was a firearm, he or she may be charged with a third degree felony.
Other weapons charges include:
Firearm trafficking;
Possession of a stolen firearm;
Armed robbery;
Possession of a firearm by a juvenile while on school grounds; and
Improper discharge of a firearm.
In certain cases, an alleged weapons offense may be charged at the federal level, rather than the state level. These cases are heard in federal district courts, where defendants are subject to federal laws and sentences.
Work with an Experienced Miami Criminal Defense Lawyer
Being convicted of a weapons charge can have severe criminal penalties. If you are facing this type of charge, be proactive and contact our team of experienced Miami criminal defense lawyers at Ratzan & Faccidomo, LLC today to set up your initial legal consultation with us. We can answer any questions you have and help you determine the most appropriate legal defense strategy for your case.
Resource:
leg.state.fl.us/statutes/index.cfm?App_mode=Display_Statute&Search_String=&URL=0700-0799/0784/Sections/0784.011.html