Two South Florida Men Arrested For Trafficking Opioids On The Darknet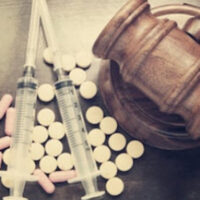 The darknet has emboldened participants in the illegal drug trade.  When you venture into the dark corners of the Internet that search engines cannot access, the photo-realistic graphics are absent, but so is the feeling that anyone can find out anything about anyone with just a few clicks.  It is a feeling of online anonymity that the young generation has not experienced anywhere else, and it is easy to get overconfident.  Finding out the identity of the people connected to darknet transactions is not as impossible as it may seem, though.  Federal, state, and local law enforcement bodies have teams of investigators dedicated to discovering the identities of people connected to illegal transactions on the darknet and to illegal purchases made with cryptocurrency.  Here, our Miami drug crimes lawyer describes how two men, who were at home everywhere and nowhere, allegedly traded thousands of opioid pills online and shipped them by post, how investigators discovered the conspiracy, and why the court decided to detain them until their trial.
The Charges: Trafficking in Controlled Substances
Luis Miguel Teixeira-Spencer was born in Cape Verde and moved to the United States when he was eleven years old.  His closest relatives in the United States are his aunt and cousin who live in Rhode Island.  Court documents and news sources do not say when he first came to South Florida, but he has never had legal immigration status.  Until the current case, he had virtually no criminal record; his only conviction was for pleading guilty in a Rhode Island court to a misdemeanor charge of obtaining money under false pretenses.  Olatunji Dawodu was born in Nigeria and moved to the United States in 2005; he became a naturalized U.S. citizen in 2011.  One of his sisters lives in Maryland, but his parents and the rest of his siblings live in Nigeria.  For years, he worked in the business of exporting cars.  He also had virtually no criminal history before the present case; he was once arrested for marijuana possession in Georgia, but his case was never prosecuted.
Beginning in early 2017, Spencer, 31, and Dawodu, 36, along with another accomplice, Alex Ogando, 35, of Rhode Island, began to sell opioids on a variety of darknet sites.  They used the pseudonym John Carter in their screen names on Alpha Bay, Dream, Empire, and Wall Street, as well as through the encrypted messaging app Jabber.  When one darknet market would be shut down, the defendants would start using a different one.  Not including the Jabber transactions, they sold at least 67,000 pills between 2017 and early 2021.
Law enforcement first became suspicious of Spencer and Dawodu's activities when an undercover police officer bought pills from John Carter on the Jabber app in 2019.  Police then began monitoring USPS drop boxes and eventually saw the defendants dropping boxes of pills in the drop boxes to be shipped by mail.  Using pole cameras, they also saw Spencer and Dawodu placing items in a storage unit in Davie and taking other items out.  On several occasions between May 2020 and January 2021, an informant bought pills from Dawodu in person.  The pills contained mostly hydrocodone, with traces of fentanyl.
In February 2021, police raided Spencer's house in West Park, a Fort Lauderdale residence where Dawodu had been staying, and Ogando's Rhode Island residence.  During the searches, they confiscated thousands of pills and packing materials; the Rhode Island residence also contained hundreds of thousands of dollars in cash.  They arrested the defendants soon after.
Detaining the Defendants Until Their Trial
A federal judge in Florida initially ordered home detention for Spencer and Dawodu, since neither had a previous felony conviction.  Spencer was to stay at his aunt's house in Rhode Island, and Dawodu was to stay at a friend's house in Miami.  Later that same day, the judge changed his mind and ordered the defendants detained, since there was a risk of them fleeing or obstructing justice.  Specifically, in a recorded phone call from jail, Spencer told his girlfriend to destroy computers that the police had not yet seized.  Dawodu surrendered his passports, but he has a fake ID from Illinois, as well as business contacts and family outside the U.S., so the chance of him fleeing is considerable.  If convicted of drug trafficking, the defendants could receive a prison sentence of ten years to life.  Spencer could also be deported to Cape Verde, although he plans to fight deportation.
Reach Out to Us Today for Help
A drug crimes lawyer can help you if you are being accused of selling drugs on the darknet.  Contact Ratzan & Faccidomo for help today.
Resources:
justice.gov/usao-dc/pr/three-individuals-arrested-involvement-darknet-narcotics-trafficking-involving-pills
casemine.com/judgement/us/6081bd954653d04eda54a91b