Three South Florida Conspirators Receive Prison Sentences For Fraudulent Purchase And Resale Of Baby Formula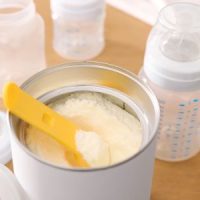 Even if your children are well into the juice box phase of their lives, you have probably noticed that infant formula has been scarce on supermarket shelves in recent weeks.  If you have seen even a single news headline this month, you know that baby formula is the most essential of essential items.  Searches are trending on Google about whether it is safe, if you cannot find formula, to accept frozen breast milk from a neighbor or coworker who has a baby about the same age as yours, and pediatricians receive frantic calls about how to make close approximations of infant formula out of available ingredients.  Before the baby formula shortage of 2022, and even before the COVID-19 pandemic, a group of conspirators in South Florida had figured out that infant formula is worth its weight in gold.  Here, our Miami white collar crime lawyer explains how three South Floridians conspired to buy baby formula and other essential supplies at a discount rate, pretend to export it to Suriname, and then resell it at full price for themselves.
The Charges: Wire Fraud, Money Laundering, Conspiracy to Obtain Medical Products by Fraud, and More
In 2013, Johnny Grobman and his wife Noemi Gellar bought a mansion in Golden Beach in Miami; in 2022, the house was valued at $5.2 million.  Everyone who lives in Golden Beach has a lot of money, but its residents have acquired their wealth in various ways; for example, Ricky Martin made his fortune in music, and Tommy Hilfiger made his fortune in fashion.  Meanwhile, Grobman's ability to afford real estate in Golden Beach was due in part to his then new business of pretending to export infant formula and other medical products to Suriname.
Grobman's accomplices in the scheme were Raoul Doekhie and his wife Sherida Nabi.  Doekhie and Nabi owned a company called Tropical Investments, which was based in Aventura.  From 2013 and 2018, the three were able to obtain large orders of FDA-regulated products, including infant formula and eye drops, from the manufacturers of these products at deeply discounted prices.  They did this by telling the manufacturers that they had contracts with the government of Suriname to import the products to Suriname and sell them at prices affordable to consumers in Suriname, much lower than the U.S. retail prices of the products.  Doekhie is originally from Suriname, but news sources did not say how the other defendants are connected to it.
Once the products were in the possession of Tropical Investments, the defendants engaged in several ways of disguising what happened to the products next.  In some instances, they made "dummy shipments," essentially sending empty crates to Suriname but obtaining legitimate documentation that the shipments had been exported.  In others, they sent the products to Suriname only to have them shipped back to South Florida a short time later.  There were also times where the defendants simply falsified the export paperwork.  No matter the specifics, the products never ended up in supermarkets or drugstores in Suriname.  Instead, the defendants would resell them in Florida, fetching a much higher price than they had paid to the manufacturers.
The Sentence: 18 Years in Federal Prison and Forfeiture of Assets
While their ostentation does not match that of the defendants in the most notorious COVID relief fraud cases, Doekhie and Nabi also seem to have enjoyed the spoils of the scheme.  They bought a three-bedroom condominium unit in the Las Olas by the River building in Fort Lauderdale.
Grobman, Doekhie, and Nabi were arrested in 2019.  They pleaded not guilty to a laundry list of charges, including obtaining medical products worth $5,000 or more by fraud and deception, wire fraud, and money laundering.  Their trial took place over 13 days in January and February of 2020, the jury returned a verdict of guilty.  The fact that more than two years went by before they received their sentences shows how much the COVID-19 pandemic disrupted the court system.  In May 2022, Grobman, 48, Doekhie, 53, and Nabi, 57, each received a sentence of 18 years in federal prison.  The defendants must also forfeit the real estate properties they bought with their fraudulently obtained money.  Additionally, Grobman must pay over $115,000 in restitution, and Doekhie and Nabi must pay $87,000.
Contact Our Financial Crimes Defense Attorneys
A South Florida criminal defense lawyer can help you if you are being charged with financial crimes such as money laundering or wire fraud.  Contact Ratzan & Faccidomo in Miami for a free, confidential consultation about your case.
Sources:
justice.gov/usao-sdfl/pr/fraud-scheme-involving-baby-formula-leads-18-year-federal-prison-sentences-swindlers
dailymail.co.uk/news/article-10847125/Three-fraudsters-sentenced-18-years-prison-baby-formula-related-schemes-Florida.html