Possible Defenses to a Weapons Charge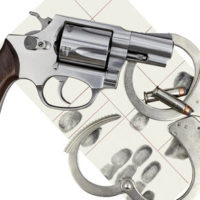 When you are charged with a weapons offense like aggravated assault, illegal possession of a firearm, illegal discharge of a firearm, or unlawful possession of a concealed weapon, it is important that you be proactive and start developing your case's defense strategy as soon as possible. An experienced criminal defense lawyer can help you develop an appropriate defense strategy for your case.
The right defense strategy for your case depends on the case's circumstances. American citizens have certain constitutional rights that may not be violated by law enforcement, such as the right to refuse to consent to searches of their homes and vehicles without search warrants and the right to have a lawyer present during questioning by police. When an individual's rights are violated, law enforcement sometimes cannot proceed with an investigation and must drop the individual's charge. Even when an investigation can proceed, pieces of evidence collected through illegal means must be thrown out, which can make it much more difficult for the defendant to be convicted.
Other potential defense strategies for a weapons charge include:
You Lawfully Possessed a Concealed Firearm
If you have a permit to carry a concealed firearm, whether it was issued in Florida or another state, you can lawfully have and transport the firearm. Your defense strategy could involve providing your permit and demonstrating that you were within a private residence, a hunting expedition, or traveling to or from a gun show when the alleged offense occurred.
You Reasonably Believed a Firearm was Secure
If your charge is for a minor's possession of a firearm, your defense could involve your reasonable belief that the firearm was out of the minor's reach.
Your Discharge of a Firearm or Threat of Harm with a Weapon was in Self Defense
You have the right to defend yourself when you feel your safety or the safety of another individual is at risk. In Florida, you are not required to retreat from a threat. Rather, you can stand your ground and use violent force if you feel it is necessary to protect yourself or another individual.
Mistaken Identity
You can only be convicted of a crime if the court finds you guilty of the offense beyond a reasonable doubt. It does not have to simply prove that the crime happened, it has to prove that you were undoubtedly the individual who committed it. If there is not sufficient evidence to link you to the crime that occurred, this can be part of your defense strategy.
Work with an Experienced Miami Criminal Defense Lawyer
If you are facing a weapons charge, you have the right to defend your case. It is in your best interest to do this with the aid of an experienced Miami criminal defense lawyer. Contact our team at Ratzan & Faccidomo, LLC today to set up your initial legal consultation with us, during which we can answer any questions you have and help you determine the most effective way to move forward with your claim.
Resource:
leg.state.fl.us/statutes/index.cfm?App_mode=Display_Statute&URL=0700-0799/0790/Sections/0790.06.html