Forgery Crimes And Florida Law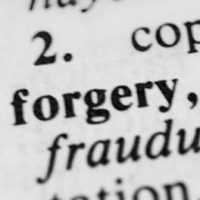 The pastor of New Jerusalem Baptist Church in Pompano, is currently facing charges for financial crimes, as well as theft, drug possession, and possession of a stolen firearm.  His case is still pending, but the investigation began when parishioners complained that he had an unfair amount of control over the church's funds and claimed that he was spending the money irresponsibly.  He allegedly wrote checks drawn on the church's bank account, causing the account to become overdrawn by $1,600.  The most serious charge he faces is for allegedly forging a quit claim deed granting him possession of the church building.  Like all defendants in criminal cases, he has the presumption of innocence.  It may be relevant to his case that, according to the Patch website, he suffers from substance use disorder.  Upon gaining possession of the church's real estate property, he allegedly sold it for $600,000 and sold it to buy drugs.  Financial crimes, if they can be proven, are often a sign of financial desperation.  Here, our Miami white collar crime lawyer explains the crime of forgery and some defenses that defendants might be able to use if accused of forgery.
When Is It a Crime to Make a Fake Document?
The crime of forgery occurs when a defendant produces or presents a falsified document with the intent to mislead the recipient.  Almost any kind of document can be the basis of allegations of forgery, but the most common documents forged in criminal cases include personal identification documents, deeds to property, contracts, and wills.
Of course, it is not always a crime to produce or present a fake document.  If there was no substantial possibility that the document was genuine, then making fake documents is not forgery.  For example, it is not a crime to hang a diploma from the School of Hard Knocks on the wall of the back office of your bong shop.  It is also not a crime to send a Valentine to your friend and sign the name of her celebrity crush.  Context matters, and a reasonable person would not interpret these documents as being true at face value.
Check Forgery, the Least of All Financial Crimes
In most cases, forgery is a third-degree felony.  Therefore, the maximum penalty for a forgery conviction is a $500,000 fine, five years in prison, and five years of probation.  One of the most common types of forgery is check forgery, in which the defendant issues a check from an account to which he or she does not have authorized access.  In other words, it is check forgery if you forge someone else's signature on that person's check.  Charges of check forgery also apply if you issue a check drawn on your own bank account, but you know that your account does not have sufficient funds to cover the amount of the check.
Check forgery can be a misdemeanor or a felony, depending on the amount for which the check is payable.  If the amount of the check is less than $150.00, then check forgery is a first-degree misdemeanor, and the maximum penalty is one year in jail.  If the amount is $150.00 or more then check forgery is a third-degree felony, like forgery of any other kind of document.
What Is a Quit Claim Deed, and Why Is It Such a Big Deal If Someone Presents a Fake One?
Stealing a house or building is no simple task.  Real estate theft usually involves the forgery of documents related to the real estate property.  One such document is a quit claim deed.  The issuer of a quit claim deed is the owner of a real estate property, certifying that he or she gives up ownership rights to the property.  Owners of real estate property often sign quit claim deeds when they are transferring ownership of the property to someone else by a process other than sale.  For example, in divorce cases, when the court awards possession of the marital home to one former spouse, the other former spouse signs a quit claim deed.  Likewise, when one family member transfers a real estate property to another for estate planning purposes, a quit claim deed is usually part of the process.
Contact Our Financial Crimes Defense Attorneys
A South Florida criminal defense lawyer can help you if you are facing criminal charges for forgery of checks or other documents.  Contact Ratzan & Faccidomo in Miami, Florida for a free, confidential consultation about your case.
Source:
patch.com/florida/miami/fl-pastor-stole-church-funds-support-drug-habit-authorities