Florida Police Arrest an Elderly Woman; Charged for Aiding Nigeria-Based Fraud Scheme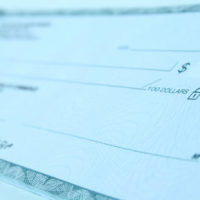 According to reporting from the Traverse City Record Eagle, Sylvia Jackson Williams — an 80-year-old woman from Columbia County, Florida — was arrested and charged with fraud and conspiracy to commit fraud for her alleged role in aiding and abetting a Nigeria-based check fraud scam.
Law enforcement officers report that a Michigan couple that owns and operates a small cleaning business was defrauded out of approximately $4,300 by a foreign fraudsters. According to the police, a man using a false identity scammed them out of the money after passing a bad check that was facilitated through Ms. Williams.
Police contend that Ms. Williams intentionally helped the scam artist carry out the fraud. However, she denies taking any of the proceeds for herself. To be clear, though she was arrested, law enforcement stated that she was a victim of this crime as well. She met the scam artist on an online dating website, and she previously lost money. Ms. Williams is now facing criminal conspiracy and fraud charges.
Senior Citizens and Other Vulnerable People Can Get Caught Up in Fraud Schemes   
Sadly, older adults and other vulnerable people are often targeted by financial fraud schemes. A study from True Link Financial found that senior citizens in the United States are defrauded out of as much $37 billion on an annual basis. These financial losses can be devastating — especially for older and vulnerable people who are already in a difficult position. However, in some cases, that may only be the start of the problems.
As the arrest of Ms. Williams demonstrates, vulnerable people are sometimes unwittingly used to carry out these fraud scheme. Depending on the specific circumstances of the case at hand, state or local law enforcement officers may even file criminal charges against a vulnerable person, who themselves was also a victim of the crime, or whose participation was not intentional.
In this difficult situation, it is imperative that seniors get access to the best available legal representation. Being investigated or accused of conspiracy or aiding a fraud scheme can be deeply frightening and stressful for an elderly person. An experienced criminal defense attorney will be able to review to the specific allegations that are being raised and charges being brought by authorities. With a full understanding of the case, a defense lawyer can protect the rights of a vulnerable senior,  ensuring that their defense is handled properly so that they can achieve the best resolution.
Get Help From a Miami, FL Fraud Defense Lawyer
At Ratzan & Faccidomo, LLC, our South Florida criminal defense attorneys are committed to providing aggressive, effective representation to our clients. No matter the specific circumstances of your case, we are here to help.
If you or your loved one was arrested on any type misdemeanor or felony fraud charge, please do not hesitate to call our law firm at 305-600-3519 to set up a free, strictly confidential initial consultation. From our office in Miami, we represent defendants throughout Miami-Dade County.
Resources:
truelinkfinancial.com/research
record-eagle.com/news/local_news/michigan-couple-victims-of-check-fraud-scam/article_a9e5379e-a45e-53f9-ad2b-c2e0e2b21cb2.html