Five South Florida Defendants Imprisoned For Medicare Fraud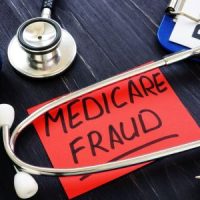 Florida is famous as a permanent or seasonal destination for retirees, and there are plenty of ways to make money off of the Sunshine State's old folks.  First, there are the legitimate businesses, such as early bird specials and senior breakfast menus, oldies radio stations, and bingo halls.  If you are not so concerned about obeying the law, there is always Medicare fraud.  Medicare is a publicly funded program that provides healthcare, medical devices, prescription drugs, and other health-related services to people over 65, so when someone defrauds Medicare, all the taxpayers are the victims.  Most instances of Medicare fraud involve doctors falsifying claims so that Medicare pays them for more services than they actually provided.  In the more brazen operations, the companies that bill Medicare never provide health-related products or services to patients at all.  Here, our Miami white collar crimes lawyer explains how a Medicare fraud and money laundering scheme played out in South Florida and how it fell apart.
Dramatis Personae: The Phony Medical Device Companies and Shell Corporations
The scheme began when Alfredo Ruiz, 30, planned to perpetrate a healthcare fraud system through two companies he controlled at least in part, namely Universal Ortho and Expedited Medical.  He rented storefront space in Miami for the companies, and although they claimed to deal in durable medical devices and prosthetics, they never actually provided this equipment.  Despite this, they submitted more than five million dollars in claims to Medicare for these devices, and Medicare paid them about $4.5 million between July and December 2019, when he vacated the storefront.
The task then fell to Ruiz to launder the proceeds of the fraudulent operation.  According to his guilty plea, he had the proceeds transferred through five shell corporations, moving the money often and in small amounts, in order to make it difficult to trace.  These were the shell corporations involved in the operation:
RCG Flooring was registered in the name of Reinier Gonzalez Caballero, 39, at his home address on Southwest 82nd
JMP Flooring was registered in the name of Alexeis Napoles Manresa, 37, at his apartment on SW Eighth Street.
JD Solution USA was registered in the name of Julio Cesar Betancourt at his home address in Hialeah Gardens.
GTS Delivery is registered to an address in Kendall. It belongs to Napoles Manresa and to Yunior Lopez Concepcion.  According to Lopez Concepcion's guilty plea, he and Manresa established the company years ago and revived it in 2019 after it had been dormant, in order to launder money for Ruiz.
CLM Wholesale was registered in the name of Lilian Castro at her home address in Grapeland Heights.
Each of the conspirators received $500 per week from Ruiz in exchange for laundering his illegally obtained money; each company laundered at least $50,000 per month.  They would then transfer the money in cash to Ruiz or to Pedro Ferrero "Titi" Conde, 34, either in cash or to corporate accounts belonging to them.  Ruiz, for his part, lived large on the proceeds of the operation.  He bought a Rolls Royce and a Lamborghini, as well as plenty of jewelry, including a 14-karat rose gold ball chain and a King Power Hublot Watch, Diego Maradona edition.
The Charges: Healthcare Fraud and Money Laundering
The aforementioned defendants received criminal charges for money laundering, and Ruiz was also charged with healthcare fraud.  Their cases played out as follows:
Ruiz pleaded guilty to conspiracy to commit money laundering and was sentenced to eight years and nine months. He is currently serving his sentence in the Federal Detention Center in Miami.
Conde received a sentence of three years and six months in prison; he is also serving his sentence in the Federal Detention Center in Miami.
Gonzalez Caballero and Napoles Manresa were convicted at trial in September 2020. In January 2022, they were sentenced to four years and three months in prison.
Lopez Concepcion pleaded guilty and was sentenced to 30 months in prison. He began his sentence in September 2020 and was released in October 2021.
Castro was sentenced to four years in prison. She is currently serving her sentence in a federal prison in Alabama.
Yahoo News did not indicate whether Betancourt was ever charged or convicted for his involvement in the operation.
Contact Our Financial Crimes Defense Attorneys
A South Florida criminal defense lawyer if you are facing criminal charges for money laundering, healthcare fraud, or another financial crime.  Contact Ratzan & Faccidomo in Miami for a free, confidential consultation about your case.
Resource:
yahoo.com/news/miami-money-launderers-4-million-110112887.html