Executive Order Pardons Thousands Of Defendants Convicted Of Cannabis Possession In Federal Cases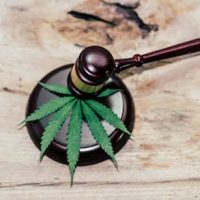 According to Florida law, possession of 20 grams or less of cannabis (that is, up to three quarters of an ounce) is a misdemeanor; the penalties can include a $1,000 fine, driver's license suspension, and up to a year in jail.  The passage of Amendment 2 in 2016 marked the beginning of Florida's medical cannabis program, and today, cannabis dispensaries in Florida sell edibles, cannabis oil, and smokable marijuana leaves.  Meanwhile, all three counties of the Miami metropolitan area decriminalized cannabis possession in 2015.  In Miami-Dade, Broward, and Palm Beach Counties, the penalty for a first offense of possession of 20 grams or less of cannabis is a $100 civil fine; the penalties for repeat offenses vary from one county to another.  Even as states, counties, and cities throughout the nation have adopted 420 friendly laws, federal law still treats cannabis as a dangerous drug that is never legal for medical use.  Those who believe that it is only a matter of time before federal law decriminalizes cannabis will find support for their position in an executive order recently issued by President Biden.  Here, our Miami drug crimes defense lawyer explains what Biden's executive order on cannabis possession changes, what it doesn't change, and what it might change.
When the War on Drugs Meets the Hazy Green Wave
According to the federal Controlled Substances Act of 1971, cannabis is a schedule I controlled substance.  This means that it has a high potential for abuse and no legally accepted medical applications.  Heroin is also a schedule I controlled substance.  Schedule II controlled substances have a very high abuse potential but at least one legally recognized medical application; the drugs in Schedules III, IV, and V are also prescription drugs with considerable abuse potential.  Cocaine is a schedule II controlled substance (it can be applied topically to prevent excessive bleeding during eye surgery), and so are most opioids, including fentanyl.  People who support the reclassification of cannabis frequently argue that it is much less dangerous than fentanyl, which causes more overdose deaths than any other drug, and yet it is more illegal.
The fact that cannabis is one of the most illegal drugs despite being not anywhere near the most dangerous is one of the main arguments for the reform of cannabis laws.  Another argument is the injustice of imposing long prison sentences for cannabis possession.  Some people have been in prison for many years and must stay there for many more because of cannabis possession, while others can buy an equivalent amount of cannabis with no fear of criminal penalties; the only difference is whether you smoked a joint in T.Y. Park in 1998 or 2018.  The Violent Crime Control and Law Enforcement Act of 1994 has played a large role in contributing to mass incarceration for drug offenses, with its provisions on mandatory minimum sentences.  In his 2020 presidential campaign, Joe Biden acknowledged the error of incarcerating people for long periods of time for drug possession, and the recent executive order reflects this.
Presidential Pardons for Federal Cannabis Possession Convictions
On September 29, President Biden issued an executive order granting a presidential pardon to every defendant convicted of simple possession of cannabis since 1992 in federal courts and the courts of the District of Columbia.  Therefore, the pardon applies to over 6,500 defendants.  It does not, however, result in anyone's immediate release from prison.  None of the recipients of the pardon are currently incarcerated; some are on probation, while others have already fulfilled all the conditions of their sentences.  Many defendants convicted in state criminal cases, including in Florida, remain in state prison, and the current presidential pardon does not apply to them.
Will Federal Law Reschedule Cannabis?
In the same executive order, President Biden instructed the Department of Justice and the Department of Health to review their assessments of the dangers and medical applications of cannabis.  New reports from these agencies are a prerequisite for removing cannabis from the list of Schedule I controlled substances and categorizing it, as some states already do, as a drug with recognized medical applications which is dangerous enough to be subject to restrictions on its sale and purchase.
Contact Our Drug Crimes Defense Attorneys
A South Florida criminal defense lawyer can help you if you are being accused of possession, trafficking, or distribution of cannabis or if an old conviction for cannabis possession at the state level is unfairly hindering your ability to obtain housing, employment, or credit.  Contact Ratzan & Faccidomo in Miami, Florida for a free, confidential consultation about your case.
Sources:
npr.org/2022/10/06/1127302410/biden-pardon-marijuana-possession-convictions
bbc.com/news/world-us-canada-63166964