Enter Xylazine, The Newest Twist In The Opioid Overdose Epidemic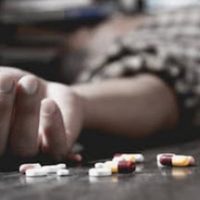 The scariest drugs are the ones that do not reveal their identities until it is much too late.  Everyone knows that you can die from drinking 21 shots of tequila on your 21st birthday, but you will probably be okay to drive after drinking one can of beer or even one shot of tequila.  Likewise, the amount of active ingredient in each pill is clearly printed on every prescription bottle, so you know how much you are taking, and your doctor gives you instructions about doses.  In the drug education courses of the 1980s, teachers tried to frighten students about the horrible things that might be ingredients of the white powder that drug dealers want you to buy to inhale or inject, and a generation of students rolled their eyes, but now those cautionary tales meant to scare students don't seem too far-fetched.  A growing number of fatal overdoses have involved drug mixtures that contained drugs that the victim did not know were present and did not intend to take.  In recent years, accidental overdoses on fentanyl have been the subject of much publicity, but more recently, a new drug has entered the drug supply, one which, despite its ambiguous legal status, has the potential to be even more deadly than fentanyl.  Here, our Miami drug crimes defense lawyer explains the rise of xylazine and the dangers it poses in South Florida and beyond.
The Newest Culprit in Opioid Overdoses Isn't an Opioid at All
By now, we all know the story of how the pill mills shut down, new guidelines about prescribing opioids went into effect, and people who had become addicted to opioids after originally obtaining them by prescription turned to a dangerous, unregulated supply, whether buying counterfeit oxycodone on the dark web or buying heroin on the street.  Fentanyl, a synthetic opioid many times stronger than heroin, became a sought-after adulterant, because it is so inexpensive.  Drug dealers were able to maximize their profits because a tiny amount of fentanyl mixed with a bag of filler is as powerful as a bag of pure heroin.  Of course, anything more than the tiniest amount of fentanyl is enough to cause a fatal overdose.
Fentanyl has turned up on toxicology tests of overdose victims who thought they were buying methamphetamine, cocaine, and other non-opioid drugs, but the news about overdoses gets even scarier.  Xylazine, a drug used in veterinary medicine as a tranquilizer and anesthetic, has been implicated in an increasing number of overdoses.  Reports of xylazine overdoses surfaced in Puerto Rico, but now they are becoming increasingly common in the continental United States, especially in the Northeast.  Nearly 20 percent of overdose victims in Philadelphia during the COVID-19 pandemic tested positive for xylazine.
Although it was invented in the 1960s for the purpose of treating high blood pressure, xylazine has never been approved for medical use in humans, because it can so easily cause respiratory depression and a dangerously low heart rate.  It is widely used in veterinary medicine to tranquilize and anesthetize horses, dogs, cats, mice, guinea pigs, and deer, among other species.  At the federal level, it is not classified as a controlled substance.
What Makes Xylazine So Dangerous?
Most victims of xylazine overdoses were unaware that they were taking xylazine, and most of the overdoses involved a combination of drugs.  45 percent of xylazine overdose victims since 2015 have also tested positive for cocaine, 28 percent tested positive for benzodiazepines, and 23 percent had also consumed alcohol.  The worst thing about xylazine is that, because it is not an opioid, its effects cannot be reversed with naloxone.  Emergency administration of naloxone is one of the reasons that there have not been more opioid overdoses than there have been.  As potent as it is, fentanyl is no match for naloxone.
Is It Possible to Reverse the Effects of Xylazine Overdose?
Reversing the effects of xylazine overdose is not impossible, but it is difficult.  The most common drug used to treat xylazine intoxication is atropine, which is derived from plants such as mandrake, devil's trumpet, and deadly nightshade.  Atropine is used to increase the heart rate in patients whose heart rate is too slow; it is also used as an antidote to poisonings by pesticides and nerve agents.
Contact Our Violent Crimes Defense Attorneys
A South Florida criminal defense lawyer can help you if you are being charged with possession, transportation, purchase, or sale of a mixture of drugs that allegedly contains xylazine.  Contact Ratzan & Faccidomo in Miami, Florida for a free, confidential consultation about your case.
Source:
statnews.com/2022/03/11/overdoses-opioid-xylazine-philadelphia/