A Quick Guide to Underage Alcohol Offenses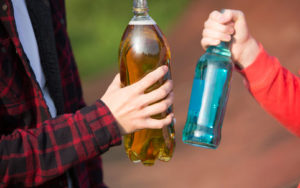 In the United States, the legal drinking age is 21. That means that when an individual who is younger than 21 consumes or possesses alcohol, even if he or she is otherwise a legal adult, he or she may face an underage drinking or alcohol possession charge.
Underage drinking is fairly common on college campuses. If your child is currently in college or heading there in the next few years, talk to him or her about the legal consequences of an underage drinking or alcohol possession charge. Do not let him or her assume that because underage drinking is common, it is not a big deal.
Minor in Possession (MIP) of Alcohol
If an individual under the age of 21 is charged with underage possession of alcohol for the first time, he or she face a second degree misdemeanor. The penalties for this include a fine of up to $500 and up to 60 days in jail. For one's second offense, he or she face a first degree misdemeanor and can be required to pay a $1,000 fine and serve up one year in jail.
Young adults charged with underage alcohol possession can also have their driver's licenses suspended and their automobile insurance policies withheld by the Florida Department of Highway Safety and Motor Vehicles. For an individual's first offense, he or she may face a driver's license suspension for six months to one year. For a second or subsequent offense, the license may be suspended for up to two years.
Underage DUI
The legal blood alcohol concentration (BAC) for drivers under 21 in Florida is 0.02 percent. An underage driver whose BAC is above this limit can face a DUI, which can result in a driver's license suspension for up to six months. If the driver's BAC was 0.05 percent or higher, he or she must complete a substance abuse education course and cannot have his or her license reinstated until he or she has done so.
Possession and Use of Fake Identification to Buy Alcohol
Using fake identification is a form of fraud. It is a third degree felony in Florida and if an individual is charged with using a fake ID, he or she can face the following charges:
A fine of up to $5,000; and
Up to five years in prison.
These penalties are applicable to individuals who use fake identification to purchase alcohol as well as individuals who provide fake identification to minors for the purpose of buying alcoholic beverages.
Work with an Experienced Miami Criminal Defense Lawyer
If your underage son or daughter has been charged with an alcohol-related offense, start working with a criminal defense lawyer who has specific experience representing underage and college-age clients as soon as possible. Underage drinking, alcohol possession, and DUI are serious offenses that can have an impact on a young adult's life for years after he or she is charged. Contact our team at Ratzan & Faccidomo, LLC today to schedule your initial consultation with us.
Resource:
leg.state.fl.us/Statutes/index.cfm?App_mode=Display_Statute&Search_String=&URL=0500-0599/0562/Sections/0562.111.html