Police in Florida Find a "Bag Full of Drugs" in a Car and Arrest Two People on Trafficking Charges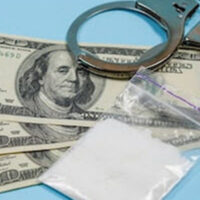 According to the Miami Herald's reporting, deputies from the Santa Rosa County Sheriff's Office recently pulled over a vehicle that was allegedly speeding on Interstate 10 in North Florida. Within the vehicle, officers discovered a tote bag that was labelled "Bag Full of Drugs"—the bag was eventually searched and police found the following banned substances within in:
Methylphenidates (meth);
GBH;
Cocaine;
MDMA (ecstasy); and
Heroin.
The two people in the car—whose names were not immediately released to the public by the department—were both arrested on drug trafficking charges. Additionally, the narcotics were seized by law enforcement and the vehicle was impounded.
How Florida Prosecutors Prove Drug Trafficking 
Florida has some of the harshest drug laws in the entire country. There is no such thing as a minor drug case. Every charge must be taken seriously. Indeed, even possession of a relatively small amount of an illicit substance could result in a person facing jail time. Of course, defendants arrested on drug trafficking face even more severe consequences. This raises an important question: What do Florida prosecutors need to prove to get a drug trafficking conviction? You may be wondering why police arrested the people in this case referenced above for drug trafficking as opposed to mere drug possession.
The Required Elements of a Drug Trafficking Charge
The reason is that Florida law does require prosecutors to provide evidence of an actual drug transaction in order to prove trafficking. They do not need to track down buyers nor do they need an actual record of a sale. Instead, the four required elements of a drug trafficking charge are as follows:
The defendant must have had possession of a banned substance;
The defendant must have had an amount of drugs deemed large enough to suggest that they were not merely for personal consumption;
The defendant must have demonstrated some intent to distribute the drugs; and
The defendant must have moved the drugs in some form.
In making a drug trafficking arrest, law enforcement will look for many different types of evidence to indicate the intent to sell. For example, when a large amount of cash is found with the drugs or when the drugs appear to be packaged for distribution, those facts provide evidence of intent to distribute—thereby warranting a drug trafficking charge.
To be clear, prosecutors are aggressive in bringing drug charges. In some cases, these crimes are overcharged. A prosecutor may bring trafficking charges against a defendant when, in reality, possession is the only offense. If you or your loved one is facing a trafficking charge, you need a lawyer.
Call Our Miami, FL Drug Trafficking Attorneys Today
At Ratzan & Faccidomo, LLC, our Miami drug crimes lawyers provide skilled, aggressive legal advocacy to clients. If you or your loved one was arrested on drug charges, call us today for a confidential consultation. We represent people facing drug charges in Miami and throughout the surrounding communities in Miami-Dade County, including in Miami Beach, Hialeah, Kendall, Opa-Locka, Doral, Aventura.
Resource:
miamiherald.com/news/state/florida/article239946818.html
https://www.rflawgroup.com/two-federal-government-contractors-arrested-in-drug-bust-at-portmiami/